Tesla SWOT Analysis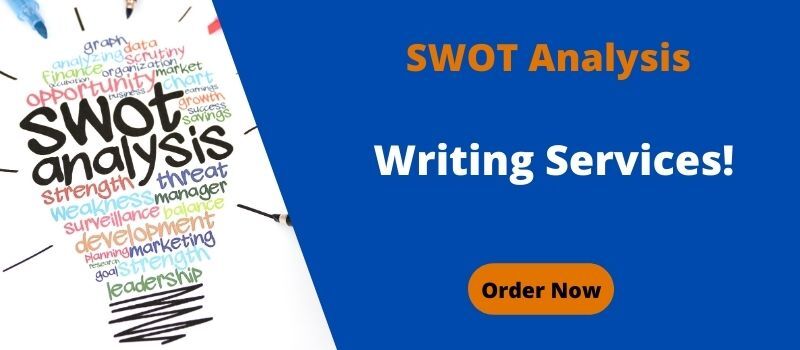 Tesla is the leading American motor company in the use of alternative energy such as solar to power its cars.
They also manufacture hybrid cars and battery-powered vehicles.
As a pioneer of sustainable energy options in the manufacture of vehicles, the company is covered by a formidable research and development team of engineers and scientists.
As a leader in the use of alternative energy in motor manufacturing, Tesla is considered to be a benchmark in motor green technologies. The company manufactures different kinds of cars such as sedans, hatchbacks, and convertibles, which run entirely on alternative energy.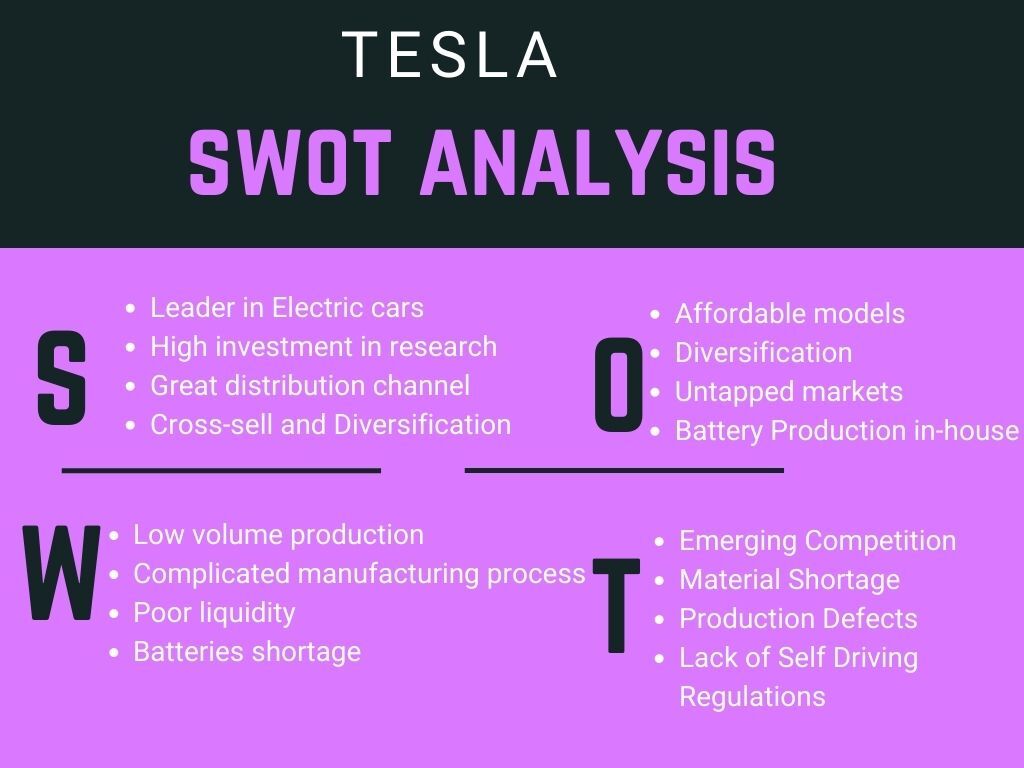 Being the only motor company that produces vehicles that run entirely on alternative energy, Tesla has become one of the most analyzed motor companies among business gurus. As such, this SWOT analysis will help reveal significant insights into every aspect of Tesla's business model. As such, we will analyze its strengths, weaknesses, opportunities, and threats that Tesla faces in the course of its operations.
So, let's see what affects Tesla's competitiveness in the global motor markets.
Tesla's Strengths
When we talk about Tesla's strengths, we refer to the positive aspects that have for a while reinforced the market position of Tesla and making it the dominant motor manufacturer in the world. Without much ado, let's look at Tesla's strengths that have proved profitable, popular, and led to the expansion of the company in the long-term.
Leader In-class Electric Vehicles
Tesla is the leading motor company in the manufacture of top of the class electric cars across the world. It has dominated the manufacture of alternative energy powered vehicles, with the other motor companies trailing far behind.
Even when you compare with the other companies' cars, the distance they cover when fully charged, theirs cover the longest distance. For instance, Tesla's Model S travels the furthest distant of 600 kilometers on a single charge, while the Opel Ampera delivers 520 kilometers on a single charge.
2. Innovative Company
Certainly, Tesla Motors is the most innovative automobile company across the world. It has the highest rate of innovation. Recently, the company launched the world's first electric-powered semi-truck.
They also manufacture alternative energy powered sports cars. With this, Tesla continues to cement its leadership position in alternative energy motor production.
3. Top Automobile Company
Every year, Tesla's production and sales keep increasing, which makes it the leading motor company, particularly in 2019. Its high sales are attributed to the fact that it is unparalleled in the production of luxury and innovative cars. Without a doubt, Tesla has surpassed some of the exclusive luxury automobile brands such as Mercedes and Audi, and BMW.
4. Distributions Channel
Tesla Company has put in place a robust distribution channel for their business model. For this reason, its products follow a well-established chain from production to the market and eventually to the clients.
5. Dominates the U.S Electric Car Production and Sales
As per the available statistics, Tesla's Model 3 was the dominant electric car sold in 2019 with a record sale of 187,971 while the Chevrolet Volt came second with 155,477 car sales. Tesla's Model S was third with 134, 392 car sales. In general, Tesla dominates in the sale of electric cars across the U.S, which is the largest market for electric vehicles across the world.
6. Cross-sell and Diversification
Tesla Motors launched a comprehensive insurance program for its cars in association with Liberty Mutual Insurance. The program is an enticing one for most of its customers who will want to buy their products. No other automobile brand has ever done this.
7. Top Employer Company
A company is as good as it employs. Tesla capitalized on this aspect, which catapulted it to remarkable success heights. As per the Wall Street Journal reports, Tesla has come out as the ideal company for most employees. This owes to its innovation and diversity inspiring culture.
The company, in recent time, was listed as the leading companies to work as well as the most attractive for young job hunters with fresh unexploited talent and energy. Moreover, in 2019, it featured in Forbes as one of the best employers.
8. Monopoly
Tesla mainly focuses on a specific niche segment in alternative energy and electric car production. With this as a driving force, Tesla has moved to higher heights to operate as a monopoly. With this, the company has been able to outsmart its main competitors in the motor industry for a long time.
Tesla's Weaknesses
Despite the strengths that have seen Tesla's growth to greater success, the company is not free of various internal factors that cause restrictions or damage to the company's performance. These restricting factors are what are referred to as weaknesses. Therefore, in this section of SWOT analysis, we identify weaknesses, which have derailed Tesla Motors and overall limited its competitiveness in its business growth and automobile market.
Lack of High Volume Production
Although Tesla is the pioneer in electric and alternative energy cars, it is yet to meet high volume production of vehicles for any of its models. And with the company enthusiastic about rolling out high volume production for Model 3 cars, there are still challenges in putting up production and management of resources to ensure everything goes as planned. Nonetheless, the company has not mentioned or planned for expansion space to cater to the high volume production.
2. Failing to Meet Demand
There is a high demand for alternative energy and electric cars across the world, and due to complicated and experimenting procedures in the production channel, the company has always failed to meet the demand.
In the first quarter of 2019, the company delivered 63,000 cars to register a 31% drop from the previous 2018 1st quarter production. Moreover, with only one manufacturing plant, it becomes even harder to meet the ever-rising demand for electric and battery-powered cars.
3. Complications in Manufacturing Process
Tesla Motors has high innovation standards that come with higher mechanical complications and manufacturing risks. With this, the company often faces frequent manufacturing, production, and launching delays of new vehicles and other products.
For instance, Tesla Motors experienced excessive delays when inaugurating and developing and producing its Model X as well as its battery.
4. Shortage of Batteries
Batteries are a major component in the manufacture and production of electric and battery-powered cars. And the limited supply of these batteries has posed a great drawback in the production of Tesla cars. In turn, it impacts the company's sales of both electric vehicles and energy storage systems.
5. Limited Market Presence
Limited market presence is a major weakness of Tesla Motors since it only generates most of its revenues in the U.S, a market where it dominates. It has very little presence in China and in the big markets in Asia and Europe. Since this is the main weakness, it has restricted the company from expanding its growth to other markets in the developing world.
6. Poor Customer Awareness
Tesla is a big company that manufactures exclusive products that are sustainable and futuristic, but most customers are still not fully aware of these products. Therefore, the lack of proper marketing strategy of Tesla Motor has significantly impacted their overall sales.
If more customers could know more about Tesla's products, then its market base would expand. Tesla Motors should get more and more people to understand the importance of driving an electric car.
7. Poor Liquidity
When it comes to liquidity, Tesla has a poor one compared to its competitors like Ford, General Motors, and Fiat Chrysler Motors that are well off financially from many years in operations. For instance, an estimate of USD 3 billion has been used by Tesla, which is not enough for the effective running of the company's operations. Therefore, the poor liquidity impacts Tesla's operations.
8. High Prices for its Products
Tesla Motors' products are perhaps the most expensive when compared to the other automobile brands in the market, especially the ones that manufacture combustion engine vehicles. The high price of Tesla vehicles and other products makes it impossible to quickly expand into other markets and grow its market share like its competitors. The high prices make customers go for less expensive alternatives.
9. Not Yet Profitable
Unfortunately, since its founding in 2003, Tesla Motors is yet to make a profit from its sales, not even a dime! On the other hand, the company has continued to make huge investments in its designing, manufacturing, production, and selling of its products. The huge loss year in year out, makes investors lose the trust of investing in such a company.
With these kinds of weaknesses, undoubtedly, Tesla Motors requires to reform its strategies to make it expand to other markets across the world to expand its customer base.
Tesla's Opportunities
In this section, we look at the emerging trends that offer Tesla Motors an opportunity for growth. Opportunities refer to the external factors, which if identified and put into proper use, can improve Tesla's business performance, management structure, and general strategic expansion, among other aspects. As such, these are the opportunities that Tesla Motors need to consider to enhance its performance in the competitive automobile manufacturing industry.
As we found before, Tesla cars are quite expensive, thus way out of reach for most customers. The costly nature of these cars is due to the exclusive dependence on innovation that requires a huge financial investment to keep the technology moving forward.
Model 3 is Tesla's most affordable electric car. However, if more models are reasonably priced, the company will, without a doubt, expand its customer base while growing its network to new markets.
Diversification for Tesla entails putting up or establishing new businesses to reduce business exposure to risks in the motor industry. As such, diversification can be a good opportunity for Tesla to improve its performance by cushioning itself from recurrent losses in its car sales.
Sales Expansion in Untapped Market
Expanding to untapped markets in Asia and Africa is one of the most important opportunities for Tesla. These are the markets that are still unsaturated with electric and alternative energy cars. Therefore, Tesla should consider tapping these markets. Besides, they can also consider moving to Latin America to increase its customer base and its financial muscles.
Introducing Battery Production Technology in-house
Tesla Motors has been outsourcing batteries for its cars from Panasonic, the primary supplier. However, manufacturing their batteries right in their production plants can be a boost in terms of reducing production cost and convenience.
Tesla's Threats
Threats in SWOT analysis refer to the factors that combine to prevent the company from utilizing its full potential of the benefits from its different strengths. Tesla, as an automobile company, faces threats from various quarters that have significantly affected its capacity to keep up its business in the volatile market. The following are threats that Tesla faces:
Tesla is not the only company producing electric, battery-powered, and alternative energy vehicles in the automobile industry. Various automobile companies are manufacturing electric, hybrid, and plug-in hybrid cars to the market that Tesla's cars have to compete. Besides, with the self-driving vehicles already in the market, the competition only gets stiffer.
Even though brands such as Audi, BMW, Lexus, Mercedes, Toyota, Ford, and General Motors don't produce environment-friendly cars, their gas-powered cars still put up a stiff competition against Tesla's expensive vehicles. Regardless of the unique and innovative products from Tesla, they are still out of reach for most people to afford!
Every business runs along the lines of customer acceptance. When the customers embrace your products, you benefit. However, customer acceptance of your products can significantly slow down the process of producing new innovative products like the case of Tesla. Without a doubt, Tesla Motors largely depends on the willingness of the clients to adopt their electric and alternative energy vehicles.
The shortage of manufacturing materials is a major threat to Tesla's performance. Often, the shortage of materials is a result of the high prices that are attached to these materials. Tesla Motors uses materials like copper, nickel, steel, cobalt, aluminum, lithium, and lithium-ion cells from various suppliers in its manufacturing processes. In most cases, these materials fluctuate in their process, which impacts the company's production line and financial muscles.
The assurance of long term sustainability for a business is a significant aspect of keeping the public image and the business' optimism. However, with Tesla's fluctuating manufacturing conditions, the company suffers from disbelief among customers concerning its long-term existence. Therefore, this has resulted in a slowing of its development and expansion.
Tesla Motors faces various threats from dealership regulations. For instance, currently, the company is selling its cars and products directly to customers without having to involve the dealership, which ends up surging the selling prices. States such as Texas and Virginia prohibit direct sales of company products and require the products to be sold through dealerships. As such, Tesla loses this customer base as it must see to them through the dealerships, which it does not have.
Lack of Self Driving Regulations
Most countries across the world including the U.S where the company has the biggest customer base don't have adequate regulations guiding self-driving. Some don't even have these self-driving regulations. Therefore, Tesla's sales are impacted by the lack of these regulations in its markets across the world. With this legal complexity, the uncertainty of Tesla's self-driving project's future is in limbo.
High-risk Factor Due to Usage of Lithium-ion
Tesla Motors uses lithium-ion cells in the production of their battery packs, which are highly explosive and reactive elements. As such, it heightens the risk factor in their products. There are a few cases where Tesla Cars have caught fire and vented smoke, thus denting the company's image.
Tesla's manufacturing processes are way too complicated for its innovative cars. As such, most of its vehicles exhibit some major defects. Often, defects are exhibited in design and manufacturing, among other features. The numerous defects in production deal a huge blow to Tesla's image in the automobile industry.
Despite Tesla's overwhelming quality assurance and high standards of manufacturing, the motor industry is accustomed to facing significant product liability claims. Tesla fears that product liability claims might be one of its biggest financial blows.
Tesla Motors has launched many different autopilot cars, and most of them have not been successful in case of an accident. As such, the company faces numerous lawsuits and claims related to the failure of technology in their vehicles. Should these liability claims continue, then the company may brace for greater financial setbacks.
Conclusion
Without a doubt, Tesla Motors is a highly innovative motor company that is enthusiastic about transforming the future of driving and the automobile industry as a whole. It mainly focuses on manufacturing alternative energy luxurious cars ideal for upper-class citizens as well as making significant moves towards developing self-driving cars.
Nonetheless, different weaknesses and threats hinder Tesla's ambition. It has to overcome all these and capitalize on its strengths to remain true to its ambition. Regardless, Tesla still remains the ultimate symbol of innovation in the automobile industry.
Related Posts