How to Write a Nursing Care Plan Professionally + Examples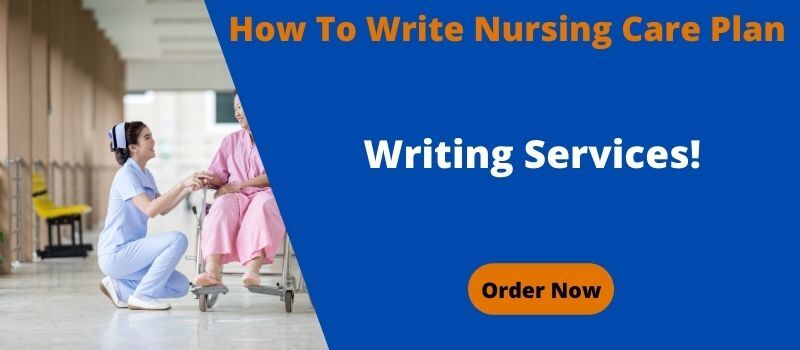 These are a document of the nursing process that outlines the plan of action that should be implemented during a patient's medical care. The nursing care plan is abbreviated as NCP,
How to Write a Nursing Care Plan? This document is prepared by nurses after a detailed assessment is done on the patient's current medical condition and previous medical history. After the assessment, the nurse can take action with the patient by implementing the care plan's goals, objectives, and interventions.
Nursing has evolved to be an evidence-based profession that requires patients' care to be based on evidence. The nursing care plan offers nurses a platform to record assessment, diagnosis, intervention, and evaluation of patients so that care is customized to address the issues that are recorded. Care plans also provide a clear path of continuous and consistent care to patients by different nurses in different shifts.
Different Types of Nursing Care Plans
We have two major types of nursing care plans. These include;
Formal nursing care plans – Standardized and Individualized care plans
Informal nursing care plans
Formal nursing care plans are in written form, print, or computer-generated guides that consolidate the information that is vital for the care of patients. The formal and standardized care plans are particular to the daily nursing needs of patients while the individualized type is specifically written for the unique needs of the certain patient that can't be addressed by standardized care plans. An informal nursing care plan is a strategy of treatment or caring action that exists in the nurse's mind.
Why Do Nurse Use Care Plans
In nursing, care plans are utilized for different goals and objectives. Here are some of the reasons why nurses use care plans:
Care plans are the key to the treatment and caring of patients as they save time. By having a complete detailed care plan, the nurse can form a clear line of treatment and care for the patient.
A care plan is a considerate document that is prepared after a thorough assessment of the patient's conditions. Therefore, the care plan allows the nurse to focus on the treatment or care without overlooking any step. A clear strategy is often the key when it comes to medical care nursing care plans that can help nurses execute a solid plan of action.
Care plans help promote evidence-based nursing. Nursing care plans help nurses research and practice data-based care.
Other reasons include:
Care plans help in communication between shift nurses and other healthcare professionals
Develop the patient's treatment goals and interventions
Develop quality care bundles, pathways, and nursing strategies for best patient experience
Help provide customized or patient-centered care
Help in making a follow-up of patients discharged from healthcare centers
Documents the progress of the patient
Developing and sustaining holistic nursing care for the best results among patients
How to Create a Nursing Care Plan
The following steps are used to develop a nursing care plan for your patients. Check them out:
Step 1: Assessment
This is the first step in the writing of a nursing care plan. Assessment involves physical assessment, interviewing, taking a health history, and reviewing the medical records of the patient. At this stage, a nurse can identify the risk factors and define the characteristics that can formulate nursing diagnosis.
Step 2: Formulating the Nursing Diagnoses
A nursing diagnosis offers a uniform way of identifying, focusing on, and dealing with specific patient's needs and responses to actual and high-risk problems. The risk health problems that can be resolved or prevented by independent nursing intervention are determined by nursing diagnosis.
Step 3: Establish Patient's Goals and Desired Outcomes
Once the nursing diagnosis is made, the nurse can proceed to set the patient's goals for each determined priority. Goals or outcomes describe what the nurse intends to achieve by implement the nursing interventions and are gotten from the patient's nursing diagnosis. Goals provide direction for planning interventions; serve as criteria for evaluating patient's progress, enable the client and nurse to determine the problem to be resolved, and help encourage the patient and nurse by offering a sense of achievement.
Step 4: Implementation or Intervention
Now that you have the goals and outcomes, the next step is to draft the best nursing intervention that will help the nurse achieve the patient's goals. Often, interventions seek to either reduce or eliminate the etiology of the nursing diagnosis. There are different types of nursing interventions. These include;
Collaborative interventions: These are actions the nurses in collaboration with other caregivers perform.
Dependent nursing interventions: These are actions performed by the patient while under the supervision of nurses or physicians.
Independent nursing interventions: These are actions performed by the nurse based on the use of clinical judgment and reasoning.
Nursing interventions ought to be achieved given the resources and time. Moreover, they should align with the culture, beliefs, values, preferences, and the therapies the patient is undertaking. All the interventions must be evidence-based.
Step 5: Evaluation of Nursing Care Plan
Evaluating the nursing care plan helps the nurse to provide on-going and purposeful follow-up of the progress of the patients towards the achievement of the set goals. It also helps define the effectiveness of the nursing care plan as well as draw conclusions to determine if an intervention is effective or should it be changed.
Examples of Nursing Care Plan
Nursing care plans for patients come in different formats. Nurses make nursing care plans for various conditions. The following conditions feature different nursing care plans.
Nursing Care Plan Examples
Cesarian Section Patient Case
We believe that the few examples can give you a head start to brainstorm and plan how to write your nursing care plan. If you are a nursing student or a professional nurse and you are caught up with time or you need someone to help your write your nursing care plan, our nursing writing service is always open to help.
We have helps both students and professional nurses to craft their nursing care plans. Our nursing care plan writers have many years of experience in writing care plans. Therefore, we can guarantee you the best custom evidence-based nursing care plan. Trust us to get the help you need today.
Related Posts