Emergency nursing capstone project ideas For DNP or MSN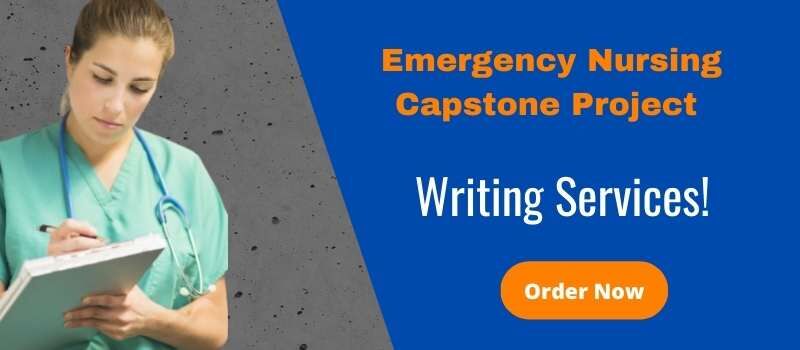 Are you struggling to come up with the perfect topic for your capstone project?
You have come to the right place. We offer topic research services for students. Where come up with a list of good topics in any medical area.
Each topic comes with a brief description and background information.
Emergency nursing capstone project ideas
Seeking a specialization through certification and earning a graduate or postgraduate degree are sure ways to earn your emergency nursing practitioner certificate. If you enroll in an academic program for an emergency nurse practitioner, your studies will culminate in a capstone project.
Writing an emergency nursing capstone project can be challenging, not because of the number of tasks it involves, but because completion depends on how well-written it is to attract the best grades.
If you need any help with your Emergency Nurse capstone project, check DNP Capstone Project Help
Emergency Nurse Practitioner Role – What is Involved
As an emergency nurse practitioner, you will act as a specialist nurse practicing independently in your field of practice. An emergency nurse practitioner works in the emergency department and has been specially trained to treat minor injuries without necessarily having to refer to a physician.
An emergency nurse practitioner can assess, diagnose, treat, and discharge patients. They are also able to carry out a variety of tasks such as reading and assessing x-rays, giving injections as well as administering medications. They can record and interpret ECG examinations, carry out a wound, burn and scald treatments or apply Plaster of Paris to fractures.
The emergency nurses can treat all kinds of patients from the age of 12 and must be adaptable and able to make quick decisions even when under pressure. The role of an emergency nurse is in many ways all-round and can work in trauma centers, urgent care centers, or on ambulances.
Why Emergency Nurse Practitioners Are Important
Before an emergency nurse practitioner was introduced, patients were referred to a physician for assessment, diagnosis, treatment, discharge, and prescriptions. All these added to the already pressured limited number of doctors available. Thus could add to the ever-increasing waiting times in emergency departments as well as in urgent care units.
The emergency nurse practitioner has developed to form part of a wider solution to this problem while serving to take the pressure off the doctors. The emergency nurse practitioners, as such, increase productivity in healthcare centers and hospitals as doctors and other healthcare providers are not overstretched.
By introducing emergency nurse practitioners' roles, it is believed that waiting times and cost health care services will be reduced while the quality of service is maintained or enhanced.
How to Choose Topic for Emergency Nurse Capstone Project Idea for DNP and MSN?
When it comes to choosing a topic for your emergency nurse capstone project, you shouldn't take this process lightly. The topic you pick will determine the extent of your research and how you will write the entire project. So, it is important to make a fatal mistake. If you feel stuck in identifying the topic of your project, you can have these few effective tips to help you get started.
1. Choose a topic idea that is least explored:
When you pick a topic idea that has not been widely explored allows you to create a path that others who will come after you will follow. Besides, you will gain knowledge through research, analysis, and presentation.
2. Choose the nursing capstone project idea that interests you
If you are going to write an emergency nursing capstone project, then you will want to write on a topic that you like. Be sure to align your career goals are aligned to your emergency nursing capstone project.
3. Don't be overly ambitious
Consider your capstone project's feasibility in terms of time you need to get it done, the cost of the project, and the help you will need from others to complete the project.
4. Choose a range of ideas
After coming up with about four-five capstone project ideas, you can then consult with your capstone project mentor on the best approach to take in settling for the best topic idea among the five.
5. Consult with your lecturers
Since these are the same people who evaluate you, you might want to hear their point of view on the topic to pick for your nursing capstone project. They might give you insights that can come in handy and they might have additional thoughts and leads to great references.
Emergency Nursing Capstone Project Ideas For MSN and DNP
Is tracking patients in the emergency with the help of an App good for their friends and family?
What items should be replaced in the ER?
Could emergency calls be simplified?
How a mobile application can improve ER procedures?
How many people ride in ambulances around the world?
Should every nurse have access to the ER?
Paying for staying in the ER – How can be the system improved?
What is the average period of staying in the ER around the world?
How can colors affect the ER patient?
Improving the odds for a drowning victim.
How to improve rural access to emergency care
Reducing violence in the ER
Effects of tasters on cardiac disorders
Should the family be allowed to remain for resuscitation
Alcohol and drug screening for adolescent patients
Best strategies for overcoming pepper spray exposure
Pediatric trauma and shock
Triage and psychiatric screening improvements
Administration of medicines nasally
Improving patient behavior
Handling pediatric fall victims
Dealing with miscarriage
Identification and treatment of abused women
Recognition of water intoxication in children
Improving care for staff after the unexpected death of a child
Terrorist attacks and disasters; how can nurses improve personal preparedness
Tips for Writing Your Emergency Nursing Capstone Project
To get the best grades out of your capstone project, the research and overall writing of the project should be done step by step while following the steps below:
Get a clear understanding from your supervisor: This will involve getting the correct format and structure to use in your paper. Ensure that you have what is expected of at your fingertips.
Plan for the project from start to finish: A comprehensive plan on how to write your capstone project will help you move your project forward in a consistent manner.
Create an online for your paper: Mapping out exactly what every section of your capstone project will contain will help you limit the excess rewriting. It will also help you identify any issues early enough in your writing.
Get your references from reliable sources: Make sure you don't only rely on the use of the internet to get your sources. Use other avenues such as the library to look for journals, books, and other literary works. If you are using the internet, use the scholarly search engine.
Consult your supervisor or a regular basis: Your supervisors are there to help you, therefore, make sure you seek help where necessary and stay on track with what is required of you.
Have a routine for your writing: Make a timetable on how you will be writing your capstone project. Have a clear target for how much reading and writing you can write at a particular time. With this, you will progress smoothly until you complete your capstone project.
Finalize You Emergency Nursing Capstone Project
When you rush your project and submit it without carefully checking it is a recipe for poor grades. It is important to take extra care when it comes to your academic life, especially when doing your final touches before you enter the professional world. As such, ensure that you edit and thoroughly proofread your emergency nursing capstone project before you submit.
Make sure that your project has the right references, it has an attention-grabbing title, and that the ideas, facts, and supporting evidence are coherent and that the entire document is flawless.
With all these falling in line, you can be sure to get a good grade out of your emergency nursing capstone project. But should you get stuck in the process, we are always available to help you.
Related Post